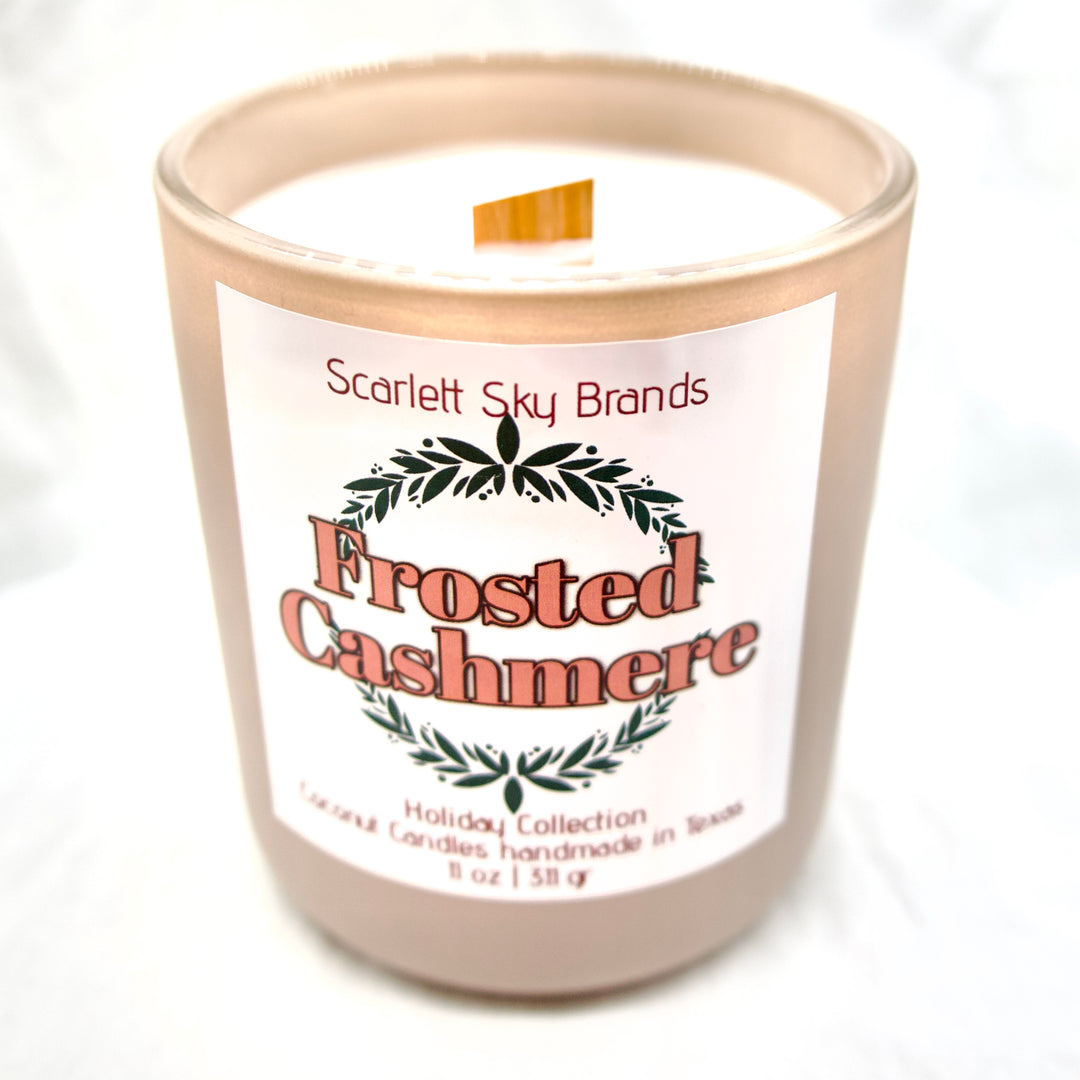 Frosted Cashmere
---
Low stock - 4 items left

Inventory on the way
Picture yourself wrapped in the soft embrace of Frosted Cashmere, a sweet yet comforting winter blend that envelops your senses in warmth and intrigue. At its heart, the enchanting aroma of sweet cocoa butter mingles with the delicate essence of coconut, creating a heavenly combination that evokes the sensation of savoring a decadent dessert by the fireplace. This harmonious blend of sweetness is elevated by elegant undernotes of cedarwood, adding a touch of sophistication and grounding the fragrance in a subtle earthy warmth. The presence of jasmine lends a subtle floral allure, enhancing the overall complexity of the scent, while rich vanilla wraps the fragrance in a comforting embrace, leaving you with a sense of contentment and indulgence.
Scarlett Sky Brands understands the importance of offering products that align with your values. Our Frosted Cashmere aromatherapy candle is meticulously crafted with a natural coconut soy blended wax, ensuring a clean and sustainable burn that soothes your senses and the environment. The addition of wooden wicks enhances the experience, crackling softly like your own personal fireplace, creating a cozy ambiance that invites relaxation and peace.
Avoid burning your candle more than 4 hours at a time. WATCH YOUR WOODEN WICK!!! Wooden wicks will let you know when they need to be put out and trimmed. WATCH FOR: Large flames, dancing flames, and soot.
Place candle on a stable, heat resistant surface away from flammable objects before lighting. 
Please keep away from children and pets. 
Trim the wick to 1/4 inch tall before you relight your candle. It keeps the wax clean, free of soot so it can burn as nicely as possible. If your candle flame seems too high, put out the candle and trim your wick to 1/4 of an inch. 
MOST importantly, NEVER ever leave your candle left unattended while burning. Put out candle flame when leaving the room or going to sleep. Never leave a candle unattended or unwatched. 
Scarlett Sky Brands is not associated with any damages or harm done due to misuse, mistreatment, or mishandling of products. 
About your Coconuts: 

Each coconut is shaped differently, since they are natural products there is no "one size fits all" when wicking and creating coconuts. Each wick is tested for coconuts that meet a certain size range, and wicks are ALWAYS wicked down for your safety. 
Coconut wax fill is between 10 oz to 12 oz 
IF there is a little bit of wax hang up on the sides THAT IS OK. The lower the wick burns in your vessel the more likely the wax hang up will melt. If it doesn't just remember each coconut is shaped differently. 

When you are finished with your coconut candles they can be washed out and reused as coconut cups. 

NEVER EVER burn a candle with a toothpick umbrella sitting on top. Umbrellas are for decoration only and MUST be removed before lighting your wick. 
Room Spray instructions and care: 
Shake well before use. 
AVOID contact with eyes, face, and skin. 
AVOID direct contact with textiles and delicate surfaces.
do NOT eat or drink. We know it smells good enough to drink, but trust us, it doesn't taste like it smells.
Highly flammable, do not spray near an open flame. 
Scarlett Sky Brands is not associated with any damages or harm done due to misuse, mistreatment, or mishandling of products.